Royal Philatelic Society of London
We are pleased to be able to stock the exceptional books from the Royal Philatelic Society of London. Books that are still in print have the published price in pounds sterling and are available from the RPSL at this price + transit charges. Transit charges from the UK can be a significant cost factor. Those with a price in US $ are available from stock in the US on a delivered basis to a US address.

Our friends in the UK should order direct from the RPSL on in-print titles; The Royal Philatelic Society of London, 15 Abchurch Lane, London, EC4N 7BW, UK

Forgeries of Great Britain 2s Brown of 1880 by Robert B. Galland & Karl-Albert Louis An excellent coverage of the forgers, Fournier, Sperati, Oneglia, Smeets, etc. that is quite useful and the best overall coverage that we know of. The authentic stamp is well covered. From the RPSL, 2017, 80+15 pages, full color, card, published at £15 plus £9 transit, in stock $35.00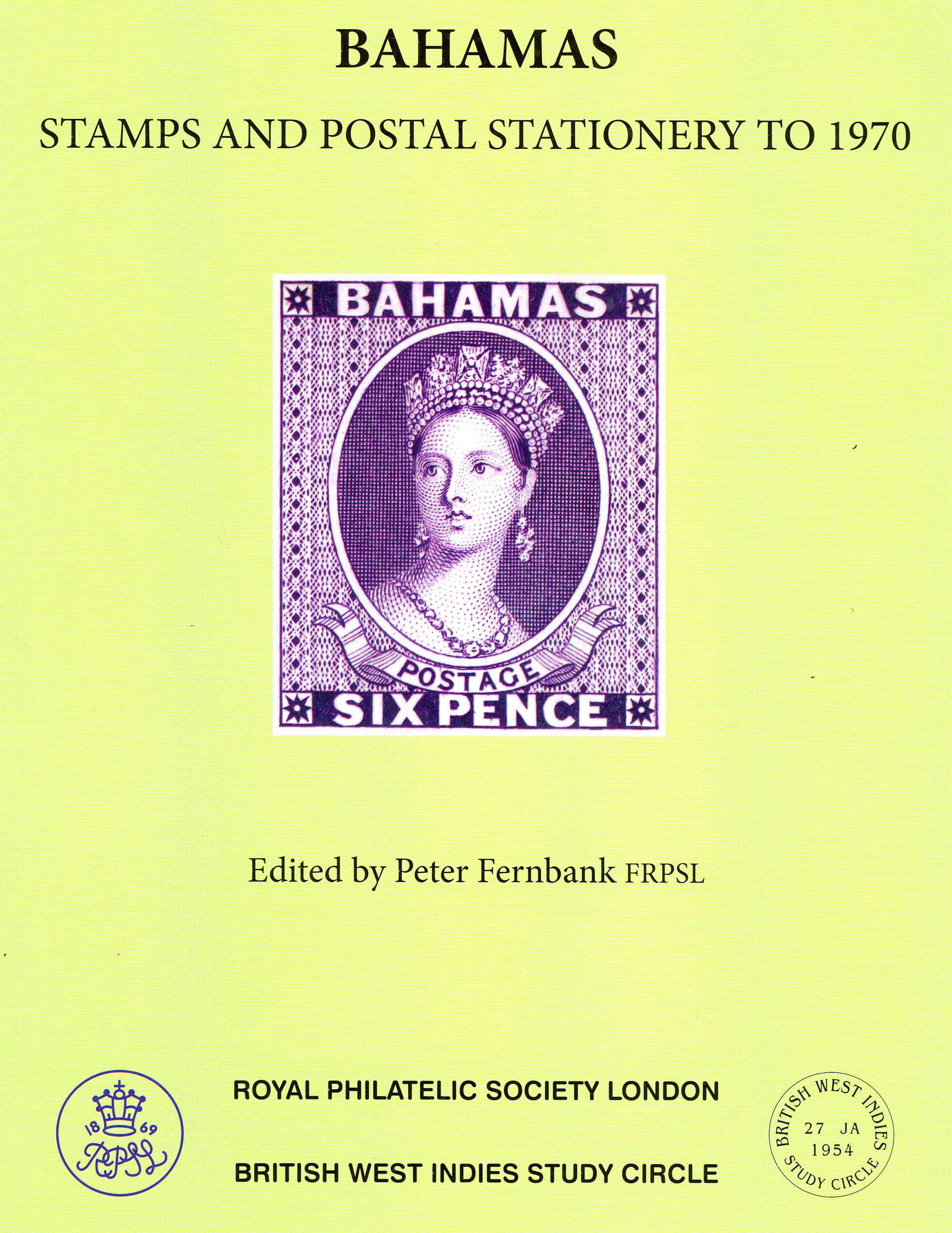 Bahamas, Stamps and Postal Stationery to 1970
by Peter Fernbank
From the RPSL, Considerable detail on adhesive stamps and the postal history, A much needed updating from Harold G.D. Gisburn's Bahamas book from the 1950's, 344+12 pages, cloth with dj 40 £ + transit, $97.50

Returned Letter Offices of Great Britain to 1912 and Beyond by J. Kenneth Snelson & Robert B. Galland From the RPSL, The scope is from the 18th century to 1912 and covers numerous aspects of this complex subject having many ramifications. For one seriously interested in this I would say this book is invaluable but for one interested in only a limited area it can be frustrating. I could not find any reference to the mail returned or refused from the American Civil War though this may be properly covered in the regulations. 486 + 10 pages, full color, cloth with dj, 2018, published at 70 £ plus transit, $130.00
Bahamas, Stamps and Postal Stationery to 1970 by Peter Fernbank From the RPSL, Considerable detail on adhesive stamps and the postal history, A much needed updating from Harold G.D. Gisburn's Bahamas book from the 1950's, 344+12 pages, cloth with dj 40 £ + transit, $97.50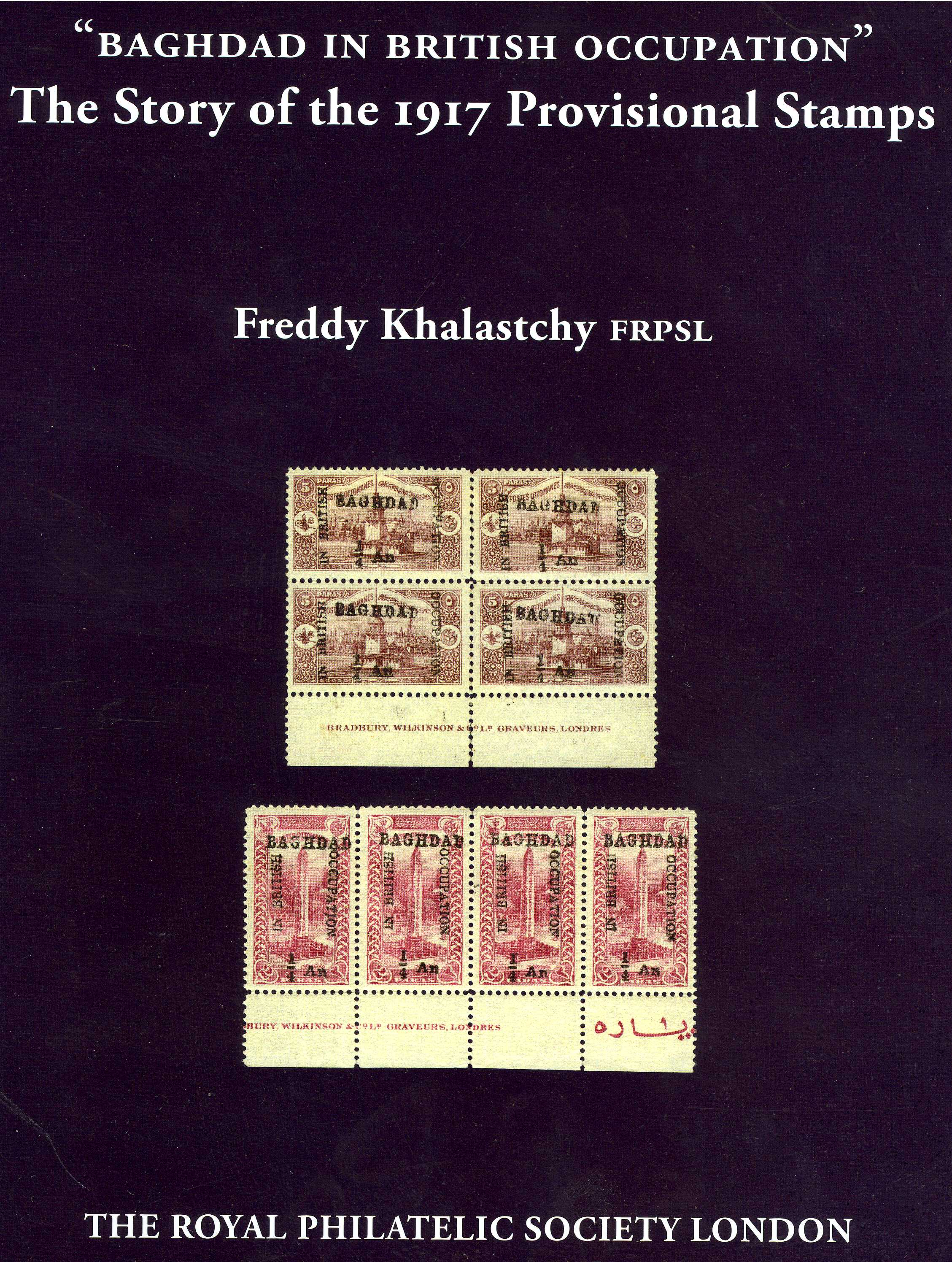 "Baghdad in British Occupation" The Story of the 1917 Provisional Stamp by Freddy Khalastichy published by the RPSL, The why and how the stamps were issued, a full record of all known errors, covers and forgeries. 2017, 320+13 pages, full color, cloth with dj, published at 50£ + 26 £ = $102.50
British Letter Mail to Overseas Destinations 1840 to UPU by Jane and Michael Moubray From the RPSL, considerable text describing the history and mail systems for each country in addition to rate tables, maps and illustrations of covers, a number in color, both a significant and magnificent book, most useful work. If you haven't guessed by now we like it! A completely REVISED edition of the marvelous 1992 book, to be published at 75 £ plus 26 £ postage by the RPSL, in stock,
2017, 511+13 pages, cloth, color, with a dust jacked., $145.00
1992, 512+24 pages, cloth, 80 black and white illustrations, enquire, $230.00 when available
Great Britain: The 1840 Prepaid Parliamentary Envelopes by Alan Huggins and Edward Klempka, a detailed illustrated listing of the various imprints, illustrations of the full covers and a census of the known covers, 2013, 99+17 pages, published by the RPSL at 39£ plus transit, $85.00
Introduction to the Large Hermes Heads of Greece: 1861 - 1886 by Constantin Mattheos This new book from the Royal Philatelic Society London provides an up to date English language guide to some of the most beautiful and complex classic stamps of the world, the first issues of Greece, the stamps and usages. From plates made in Paris in 1861. 2011, 158 pages, in color, cloth with dj, published £39 + £14.50 postage, US delivery, $86.00
Line Engraved Security Printing: the Methods of Perkins Bacon 1790 to 1935 Banknotes and Postage Stamps by Gary Granzow The first major work on engraving postage stamps since Jamex Baxter's 1939 book; Printing Postage Stamps by Line Engraving, Yes, it is on the nature of the engraving and not on specific stamps. An original approach to the research and understanding of line engraving on steel and the security printing it made possible. While much of the focus is on the evolution of line engraving in the UK, the findings apply to line engraving in general. Previously students have studied thousands of stamps and dated envelopes to deduce how the stamps were made and why they appear as they do. Gary has traced the development of engraving on steel, the mechanics of design transfer, hardening, inks, perforation and plate repair from 1790 to 1935 by studying primary sources and patents. Using this approach, he has made several basic discoveries and corrected a number of erroneous conclusions in the literature. 2012, 360 pages, 181 illustrations, many in color, cloth, published £50 plus postage of £26, $110.00
The Postal History of Mongolia 1841 - 1941
by Wolfgang C. Hellrigl
Published by the RPSL, This 100-year span can be considered as the classic period of the country's postal history, it truly displays all facets of the spectrum that the philatelic hobby has to offer. 2011, 348 pages, in color, cloth with dj, published £50 + £24.00 postage, out of print but we still have a few in stock, $137.50
War Tax Stamps of the British Empire First World War, The West Indies by John G. M. Davis 2009, by the RPSL, 400+12 pages, cloth with dj, $135.00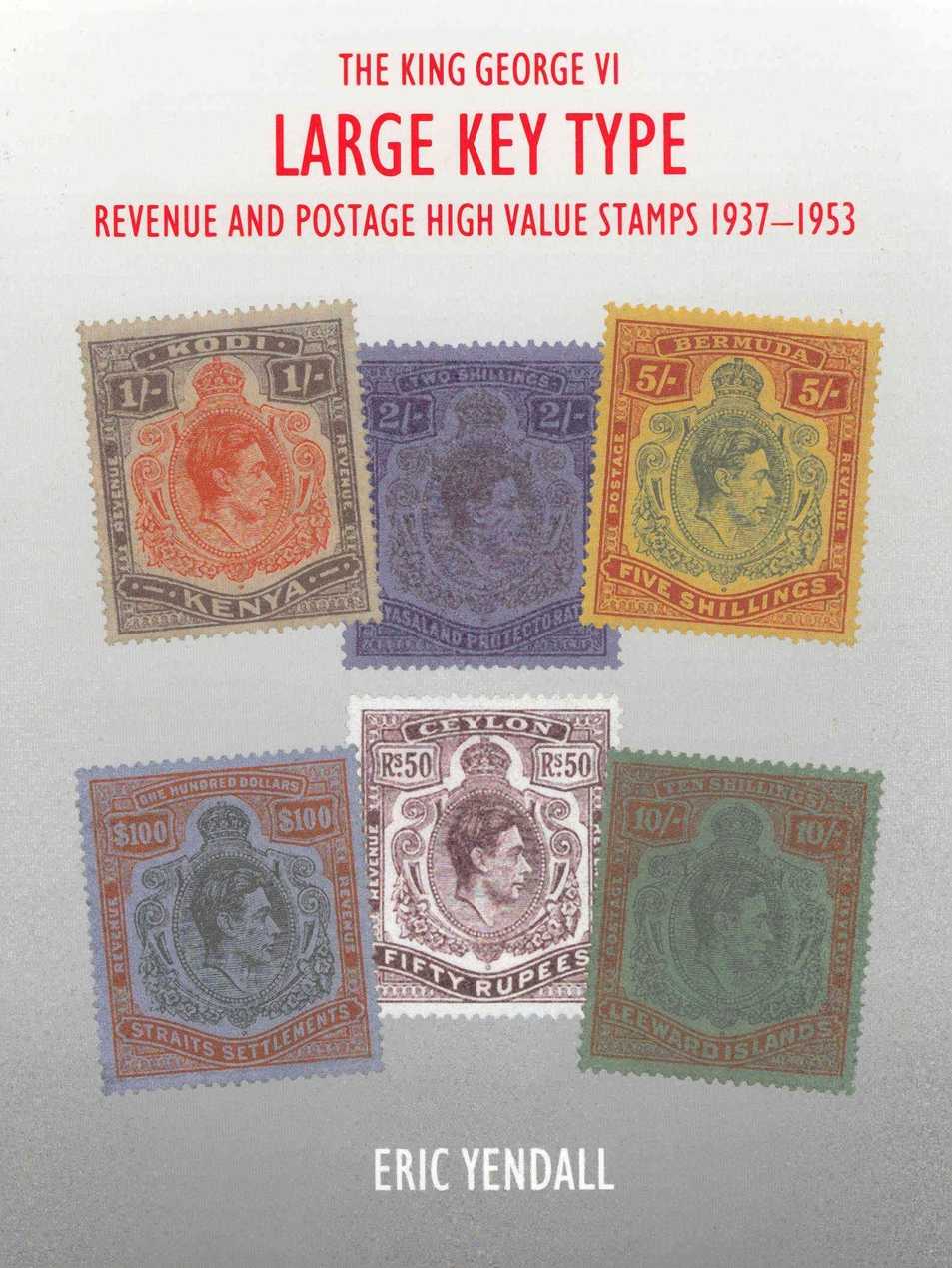 The King George VI Large Key Types Revenue and Postage High Value Stamps 1937-1953 by Eric Yendall A detailed study of the stamps, varieties, postage rates and usages. 2008, 10+358 pages, in color, cloth with dj from the Royal Philatelic Society, published £60 + £18 transit to the US, $135.00
The Grinnell Hawaiian Missionary Stamps by Patrick Pearson
2006, 112 pages, card, $29.50
2006, 112 pages, cloth, limited stock, $65.00
Stamp Perforation: The Somerset House Years 1848 to 1880 by Ray Simpson & Peter Sargeant, 2007, 370 + 16 pages, from the RPSL, published at £60 + transit, out of print $250.00
The London Philatelist, Archival Edition 1892-2005
All 114 volumes of the journal excluding advertising, 20,000 articles. A major world philatelic journal of the first quality. All digitized and set up to be searched, on CDs (not DVDs) so they will run on most PCs and MAC if having PC emulation, uses an Adobe Acrobat Reader to view the PDF files, one self loading installation CD, 12 CDs in all. priced for UK delivery £185, for Europe £186 and for the rest of the world £160, yes it is less in the US as we don't have to pay the VAT, US delivery from a stock, $335.00

Madame Joseph Revisited by Brian Cartwright FRPSL. A major expansion over the original work published in 1994 and now long out of print. A well produced booklet in a limited edition. For details please see: Madame Joseph, 2005, 96 pages, in color, hardback with dj, ring binder with 40 transparent overlays in custom stepped slip case, published by the Royal Philatelic Society of London, published at £49 + £16 postage;delivered to a US mailing address, $132.50

Madame Joseph Forged Postmarks by Derek Worboys and Roger West A joint publication by the British Philatelic Trust and the Royal Philatelic Society of London. A recently discovered hoard of over 460 implements that are believed to have been used to fake a considerable number of postmarks on British Commonwealth stamps from 1935 to 1960, perhaps later as one Aden item dates from 1967 and is apparently an authentic marker. Edition of 500, numbered, 1994, 128 pages, please enquire limited stock, cloth, out of prin

The Stamps and Postal History of Nineteenth Century Samoa by R.P. Odenweller Covers the Pre-Post Office Era, Samoa Express, the Apia Municipal PO 1882-1886, etc. etc. 2004, 416 pages, 225 illustrations in color, from the RPSL, cloth, dj, edition of 500, in stock, please enquire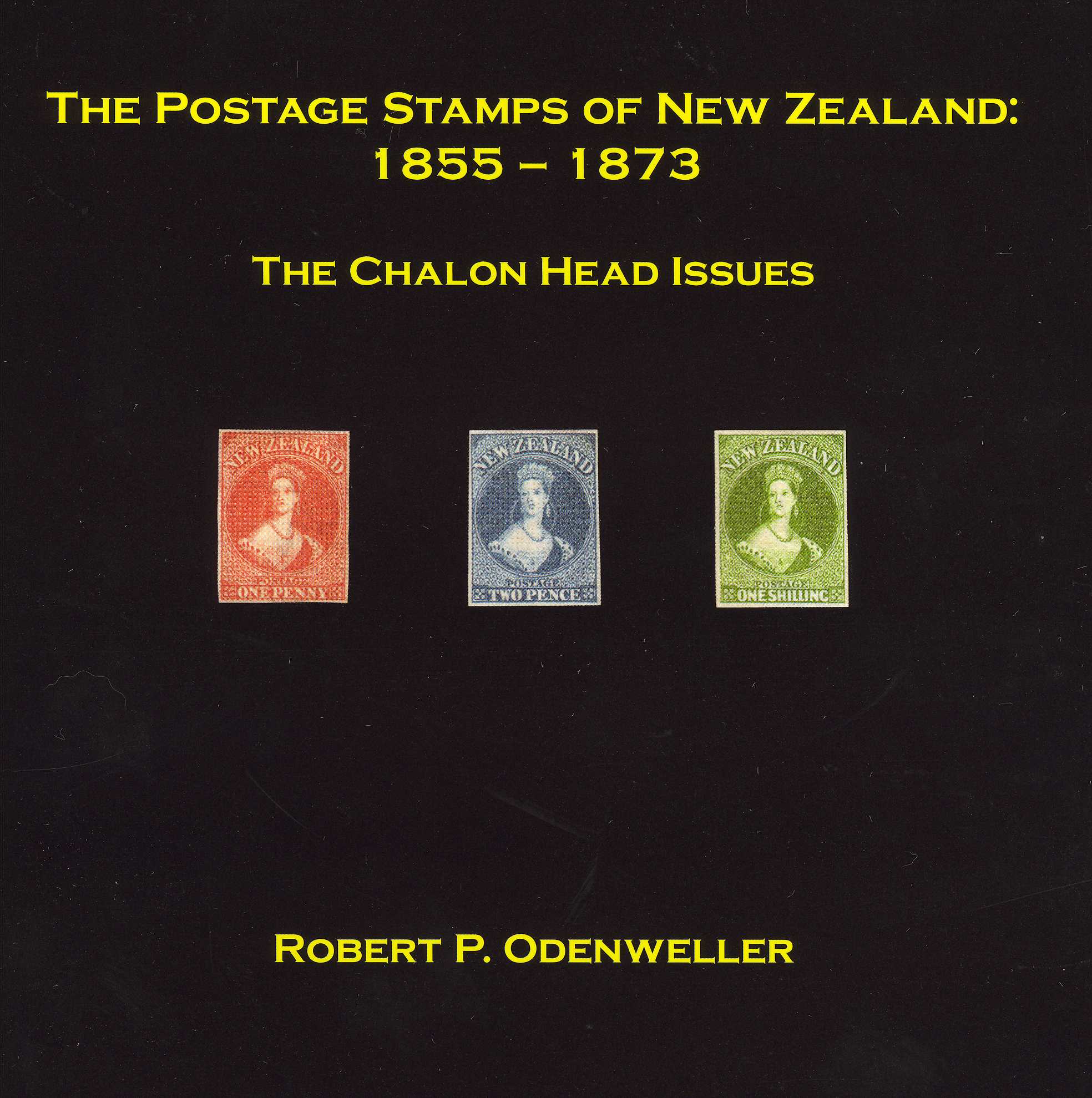 The Chalon Sorting Guide, Supplement to The Postage Stamps of New Zealand: 1855-1873 The Chalon Head Issues by Robert P. Odenweller. An excellent stamp identification guide when using the full book, 2014, 28 pages in full color, soft bound, $12.00
The Postage Stamps of New Zealand: 1855–1873, The Chalon Head Issues by Robert P. Odenweller A completely new study of the classic "Chalon" issues of New Zealand. Over 400 illustrations showing 1,000 different stamps and covers. Many new discoveries explaining old problems are covered in detail, a beautiful book, 2009, about 400 pages, cloth bound, just out and we understand it is already sold out in Australia and New Zealand, limited stock, $92.00 + $3 pp = $95.00
The Postal Services of the Gold Coast to 1901 edited by John Sacher, Another superb work, history and philately from John Sacher 2003, 12 + 254 pages, cloth with dj, published 70£ + transit from RPSL, $132.50
The Work of Jean de Sperati II by Robson Lowe and Carl Walske A completely new work and major contribution to our literature on philatelic forgeries and forgers. 2001, xiv+218 pages and 4 color photographic plates, green cloth binding matches the first printing of original BPA work, For more details and a reproduction of one photo plate please see Sperati IIpublished at £60 + transit, $300.00
The Reform of the Post Office in the Victorian Era, 1837 to 1864 The definitive account, a massive two volume published during Stamp Show 2000 by The Royal Philatelic Society of London, edition of 650, numbered. Excellent color illustrations of the 1840 ink and paper experimental printings. 2000, 1,304 pages, two volumes, published £150.00 plus £39 for postage, out of print, enquire first, $450.00
The Postal Markings of Mandate Palestine 1917-1948 by Michael Sacher The original printing and not a reprint, 1995, 530 pages, 2,800 line illustrations, cloth, from the RPSL, limited stock, from the RPSL, $150.00
First Issues of Postage Stamps 1853-1867 by Gerhard Blank Covers printing characteristics and watermarks in detail; catalog of the stamps, covers, proofs and reprints with rarity factors. 1989, 180 pages, 16 color plates, 22+2 black and white plates
The Postal Service of Sierra Leon, its History, Stamps and Sationery until 1961 by Philip O. Beale 1988, 252 large pages + 4 color plates, cloth, £30 from RPSL, $70.00
The Postal History of the P&O Service to the Peninsula by R. Kirk Mails carried from England to the Iberian Peninsula; Spain, Portugal and Gibraltar from 1835 to 1862, the sailings and markings. 1987, 124 pages, card bound, Royal of London, $36.00
Tasmania, Stamps and Postal History by W. E. Tinsley 1986, 199 pages, cloth, only one copy in stock, $100.00
The Pacific Steam Navigation Company, 1840-53 by A. R. Doublet The company, ships, covers, markings and stamps, emphasis is Chile. 1983, 80 pages, card, edition of 1,000, Royal of London, $35.00
British East Africa Postage Stamps and Postal Stationery by Minns A fine and beautiful study from the Royal of London.
1982, 134 pages, 4 color plates, cloth, edition of 500
1990, 54 pages, card supplement
Set, only one available $220.00
Sudan, Postal Markings, 1867 to 1970 by Stagg
1974, 196 pages, cloth
1984, 24 pages, paper cover, Addenda and Corrigenda
Five Cents Beaver Stamp of Canada by Geoffrey Whitworth 1985, 95 pages, card limited stock, $25.00

First Athens Issue of the Large Hermes Heads by Photiadis 1965, 39 pages, card, edition of 1,000, limited stock, $20.00

Specimen Stamps of the Crown Colonies by Marcus Samuel
1976, 255 pages, cloth, 16 plates with supplement, sold out
1985, 21 pages, card, supplement only, $15.00
The Royal Philatelic Society London 1869-1069 History of the society and listing of publications, 192 pages, cloth, $85.00
Order Form
Return to PB Home Page
---
Philatelic Bibliopole
PO Box 36006, Louisville, Ky 40233, USA
A quick e mail to: